Week 3 and You Are a Superstar!
Aisling Moloney from RTE News2Day, along with our ambassador David Gillick, visited St Ronan's NS on Sep 13th and spoke about Marathonkids Ireland. The students were filmed while running and doing warm up exercises.
Our ambassador David has already started visiting some of the schools that are part of the programme like St. Ronan's and Bishop Galvin NS (South Dublin) and Scoil Mobhi and St Brigid's GNS (Dublin City). You can watch the videos below.
This week's visits will be as follows:
Monday, Sep 23rd 9:30 am at Holywell ETNS, Swords
Monday, Sep 23rd 10:45 am at Thornleigh ETNS, Swords
So stay tuned as David might be coming your way for some fun running and exercising!
CLICK TO WATCH THE ST RONAN'S VIDEO
CLICK TO WATCH BISHOP GALVIN'S VIDEO
Running and exercising in general is good for the body, as we learned in Week 2, but also for the mind and Week 3 will be about the Mental Benefits of Exercising.
CLICK TO GO TO THE TEACHERS SECTION
In the Teachers Section you will also find the a nice and easy warm up exercise (one per week). This is the one for Week 3
We will be posting some amazing content on our website (make sure to bookmark it on your browser) and on our social media so don't forget to follow us on Facebook, Twitter, Instagram and Youtube.
You can contribute to the weekly content too by sharing your photos and videos on social media and tagging @marathonkidsireland (Facebook and Instagram) or @marathonkidsire (Twitter). These is just a selection of the great content you are already generating.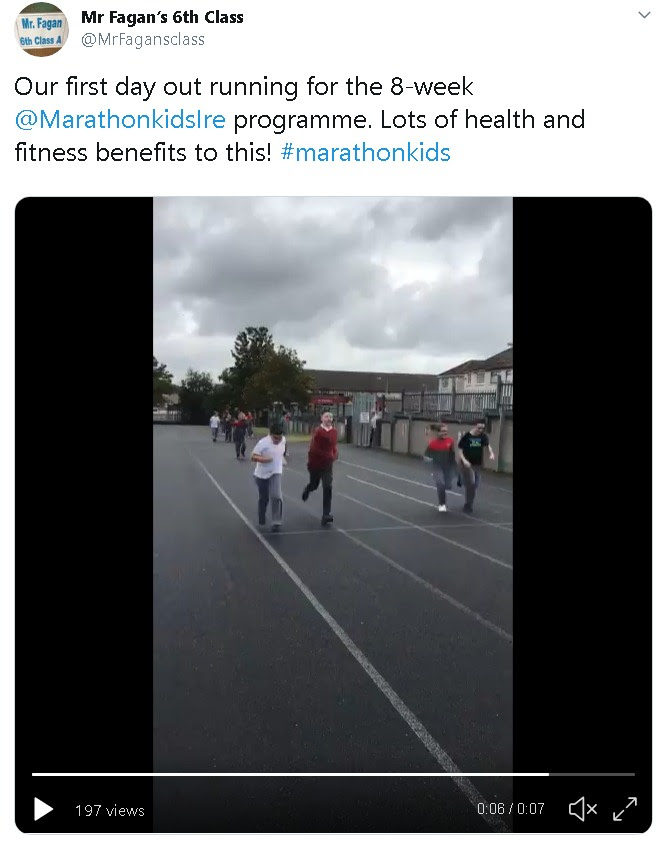 Keep up with the great work and roll on Week 3!
The Marathonkids Ireland team